Ideal for professionals who visit San Sebastian frequently. Everything you need to be productive, work in comfort and feel at home.
Room
Double Deluxe Room With Balcony
Feel the beating heart of our city from this cosy room and enjoy all the comforts in the very centre of San Sebastian !
Room
Double Superior Room With Terrace
With a contemporary and cosy design, you will enjoy all the comforts of home in this space.
Spacious and cosy space designed for you to enjoy the charm of our city in peace and privacy. It has a bathroom with shower, air conditioning, lighted desk, TV, minibar, safe…
Room
Double Room With Extra Bed
The ideal space for families and groups of three people. Triple room in the heart of San Sebastian with all the comforts to guarantee your rest. Children under the age of two stay free of charge in our cot.
Our Rooms
Have you just finished a long day's work in San Sebastian? Have you visited all the attractions that San Sebastian has to offer?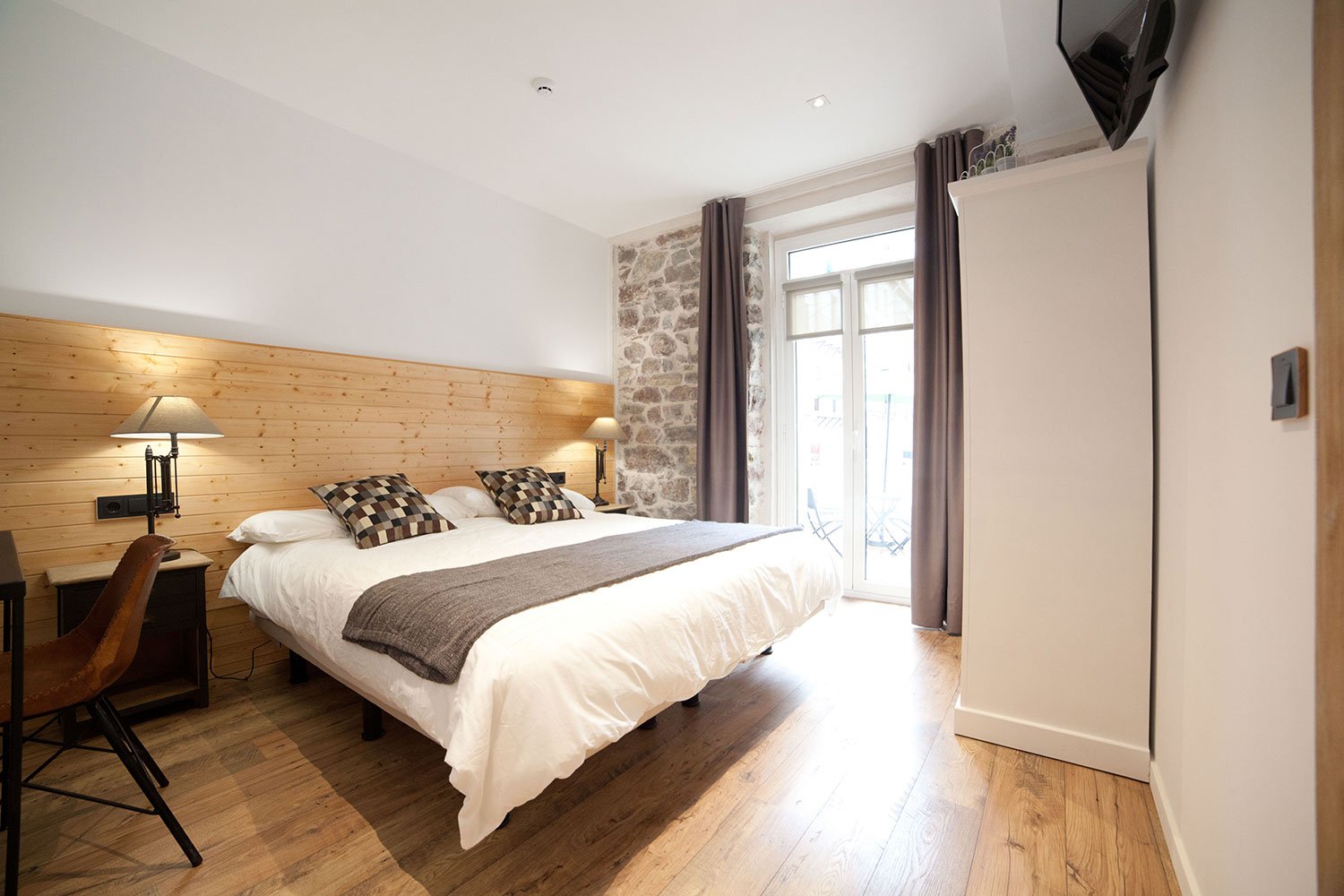 Relax in our very comfortable rooms and discover what it's like to rest in comfort and style in the middle of San Sebastian!
At Casa Nicolasa we take care of every detail so that you can recharge your batteries and fully enjoy our charming city.
We equip the 11 rooms with all the necessary comforts to guarantee the best rest for our guests, taking care of even the smallest detail because we understand that it is the details that make us feel at home.
What will you find?
R
etreat to our very comfortable rooms and discover what it's like to rest in comfort and style !
Silence and tranquillity in the heart of Donosti
02
All our rooms have been soundproofed with top quality windows and the best materials so that you can enjoy the peace and quiet you deserve after a long day of sightseeing or work. Rest in our extra-large beds with viscoelastic mattresses and soft bedding. Adjust the adjustable and silent air conditioning in your room to the most comfortable temperature for you. And shhhhh… Pure relaxation!
Casa Nicolasa Commitment
03
At Casa Nicolasa we do not leave it to chance. If you indicate your preference for a type of bed or a specific layout, we guarantee both for you. Choose between single beds or double beds, according to your taste. At Casa Nicolasa you won't have any unpleasant last minute surprises!
Modern and spacious bathroom
04
All our rooms have a private bathroom designed with the utmost attention to detail so that you can enjoy your personal grooming time. Enjoy a contemporary space with a lot of personality, a large shower tray, bath linen and a variety of amenities. And for the more conceited, a full-length mirror and hairdryer.
Stay connected...whenever you want
05
Are you coming to San Sebastian for business reasons? Are you visiting us from far away and want to keep in touch with your family and friends? All our rooms have free high-speed WiFi connection. You decide: if you want to disconnect, you disconnect. And if you want to be connected, you can do so comfortably whenever you want.
We take care of the smallest detail
06
Because we want to be your home in Donosti, the magical space where you come home after a long day of work and/or fun. That is why we have decorated all our rooms with elements that give them warmth and personality: wood, earthy colours, spacious wardrobes, local decorative motifs… details that will make your room your home in San Sebastian.
Previous
Next